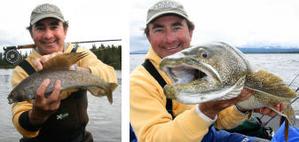 "I have fished all across northern Canada for grayling and the Wolf River is in a class by itself when it comes to action and size of the fish. It simply doesn't get any better than this! The Wolf River is in a league of its own!"
Gord Pyzer
2009 Inductee, Canadian Angler Hall of Fame; Fishing Editor, Outdoor Canada Magazine; Field Editor, In-Fisherman Magazine and Television; Co-Host, In-Fisherman Ice Fishing Guide Television; Co-Host, The Real Fishing Radio Show; Host, Fish Talk With The Doc, Outdoor Journal Radio; President, Canadian Angling Adventures Ltd.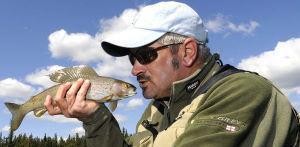 ​​"The Wolf River is unbelievable and has to be the best grayling fishing I have ever experienced."
John Horsey, UK
England World Champions Fly Fishing Team Member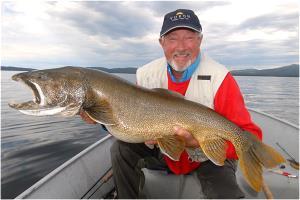 "The largest lake trout of my career."
John Wilson
John Wilson has been in the angling business in the UK for more than 20 years. His work includes countless magazine articles, a weekly column in the Sunday Express newspaper, more than 20 published books and his own television series. Most recently John has been filming his Dream Fishing series for the Discovery Channel, including an episode from Wolf Lake.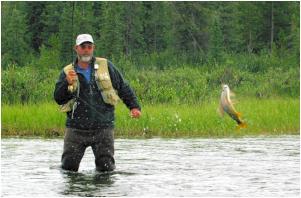 "The best natural grayling fishery in the world."
Hans Van Klinken
Full Article: Deep in the Yukon Wilderness by Hans Van Klinken
Hans Van Klinken has traveled extensively through Europe, fly fishing exclusively with great success. Hans has traveled to Canada for the last 10 years, fly fishing and photographing his way across the country with his wife Ina.
He ties his own flies, and has created many unique patterns, including the world renowned "Klinkammer". Hans has been to Wolf Lake five times, and is constantly impressed with the quantity and size of grayling in the Wolf River.
"We had a fantastic time! The service and food was better than a 5 star hotel! We are fortunate to have met you and your family and hope to see you again in the near future! We wish you the best and thank you so much for one of the best trips in our life time!"
Joe and Pam Dantzinger
"This resort rates near the top of all the places we have been in the past 15 years all around the world. Wes, Michelle and Bryan do a great job in all aspects — food, cabins, boats — and the fishing was also good."

Dick Negri, on behalf of a group of 12 from Minneapolis, Chicago and Australia
"Wolf Lake Resort delivers all that was promised with a few pleasant surprises, such as wonderfully accommodating staff. Thank you for all your effort, it was appreciated every day!"
John Foley
"Thank you for a wonderful time in the wilderness! Bryan's cooking was great, fishing was great and we were treated in a manner which will bring us back."

Pete Whiting, WA
"The best fishing experience I have had. The accommodations were great. Bryan, the food and meals were "10" star. The trout and grayling were very accommodating and caught lots of fish. A great camp, Wes! Thank you."

Gary Metcalfe, AB