Wolf Lake Wilderness Lodge: A Fishing Paradise
Fishing In The Yukon | Wolf Lake Wilderness Lodge is not just a fishing destination, it's an angler's paradise where you can experience the great outdoors in a pristine setting. Located 110 air miles east of Whitehorse, Yukon, Wolf Lake is a natural wonder with dimensions that are nothing short of impressive. Thirteen miles long, three miles wide, and 280 feet deep, this secluded lake boasts an array of unique fishing opportunities to catch Lake Trout, Arctic Grayling, Northern Pike, Whitefish and Burbot, making it a hidden gem in the world of angling.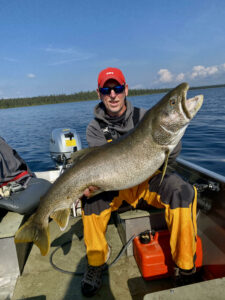 Catch and Release for Sustainable Fishing
Since its establishment in 1978, Wolf Lake Wilderness Lodge has been dedicated to providing a unique and sustainable fishing experience. The lodge's focus on catch and release, combined with the remote location, has resulted in remarkably low fishing pressure, ensuring that the fishing experience remains as remarkable as it was over four decades ago.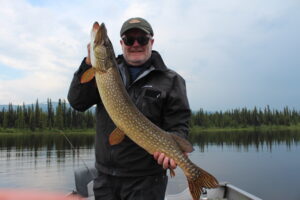 The Art of Fly Fishing
Wolf Lake's unique underwater structure, high altitude, and northern location create an ideal environment for fishing. Unlike many other fishing destinations, you won't need downriggers here. The lake's thermocline is at about 40 feet, which means you can fish the top 15-40 feet using light tackle, making it a dream come true for fly fishing.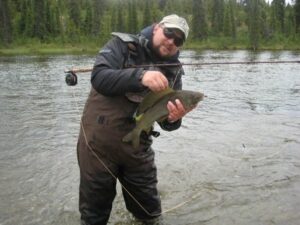 Trolling and Casting
Fly fishing enthusiasts will find themselves in paradise as they can choose between two incredible techniques. Trolling flies with sink-tip lines and casting with a dry fly are both tried and true methods for landing trophy trout in the shallow waters of Wolf Lake.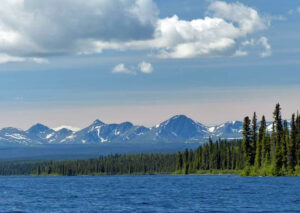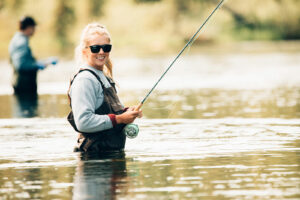 The Wolf River: A Grayling Haven
A mere 15-minute boat ride north of the lodge, you'll discover the Wolf River – a true gem among grayling fisheries. Often described as "the Best Natural Grayling fishery in the World," the river's reputation is well-earned. The unique conditions of the river make it a Grayling haven.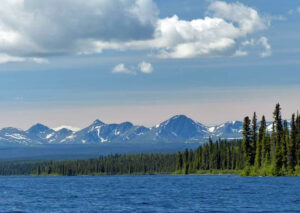 Grayling's Perfect Habitat
Grayling return to the well-oxygenated waters of the Wolf River in late June, where they spawn, feed, and find shelter from predatory Lake Trout. The conditions in the river are perfect for Grayling, and the results are evident in their size and fight. These fish typically average 1.5 to 2.5 lbs, with specimens reaching up to an impressive 4.0 to 4.5 lbs.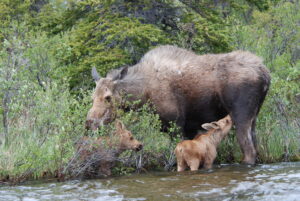 The Joy of Ultralight Fishing
Fishing at the mouth of the Wolf River is an absolute joy for fly and conventional fishermen, especially if you're a fan of ultralight fishing. Using ultralight rods and small Mepps lures or jigs, you'll be catching Arctic Grayling with nearly every cast.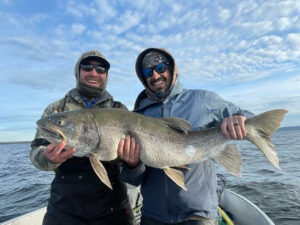 Fly Fishing at Its Best
The Wolf River is a fly fishing haven. Its wide, easily wadeable waters make it the perfect place to learn or practice fly fishing. Accomplished fly fishermen also relish the abundance of fish as they try new flies and refine their skills. Many anglers have caught more than 100 Grayling in a single day, making it a fly fishing dream come true. Lake Trout are often feeding on Arctic Grayling and can be caught in less than 10 feet of water when casting from the shores of Wolf River.
May Lake: Ultimate Day Trip Destination
May Lake is a hidden treasure near the end of June and the first part of July. As the Northerns congregate in the shallow bay of May Lake to bask in the sun, the fishing conditions become ideal. The shallow waters and sandy bottom make it perfect for sight fishing, where you can see these aggressive fish up close. Northerns are known to bite nearly anything you throw at them.
Aside from Northerns, May Lake is home to an abundance of small red-fin trout and a few good-sized Arctic Grayling. The lake may be small, but it's deep and offers a fantastic guided day trip opportunity. Located on the opposite side of Wolf Lake from the lodge, you'll secure your boat and take a short hike through the wilderness to reach the lake. With boats available, May Lake is a great addition to your fishing adventure.
Plan Your Fishing Adventure
At Wolf Lake Wilderness Lodge, you'll experience a fishing adventure like no other. Whether you're a seasoned angler or a novice looking to learn, our diverse fishing options and dedicated staff will ensure an unforgettable experience. Don't miss the opportunity to explore the best Arctic Grayling fishery in the world and catch trophy Lake Trout, Northern Pike, Whitefish and Burbot in the pristine waters of Wolf Lake.
Plan your trip today and discover the wilderness, the thrill of the catch, and the beauty of Wolf Lake. Explore our website for more information, available dates and contact details. Your angling adventure of a lifetime awaits at Wolf Lake Wilderness Lodge.